A mental health podcast, conversing with brave sisters in our community.
Motherhood is hard. There is no doubt about it, SubhanAllah. Some relationships in our lives are beautiful, while others are a trial for us. We don't choose the family we are born into, nor the children we birth. But when Allah chooses to guide a non-Muslim mother to Islam, along with everything else, there is already so much that she no longer relates with - family, friends, surroundings. What then, about her children?
In the second episode of the 💕Heart-to-Heart Podcast, 'Dear Daughter', you are invited to join us as we converse with a revert mother sharing her emotional story of the many subtle nuances that give meaning to these fragile, and sometimes strained, relationships in our lives.
Dear Daughter ⚘,
With silent prayers and heartfelt du'aas
I hope to leave behind a legacy
I want to give you a beautiful life, of laa ilaaha illa-Allah
From cradle to Eternity..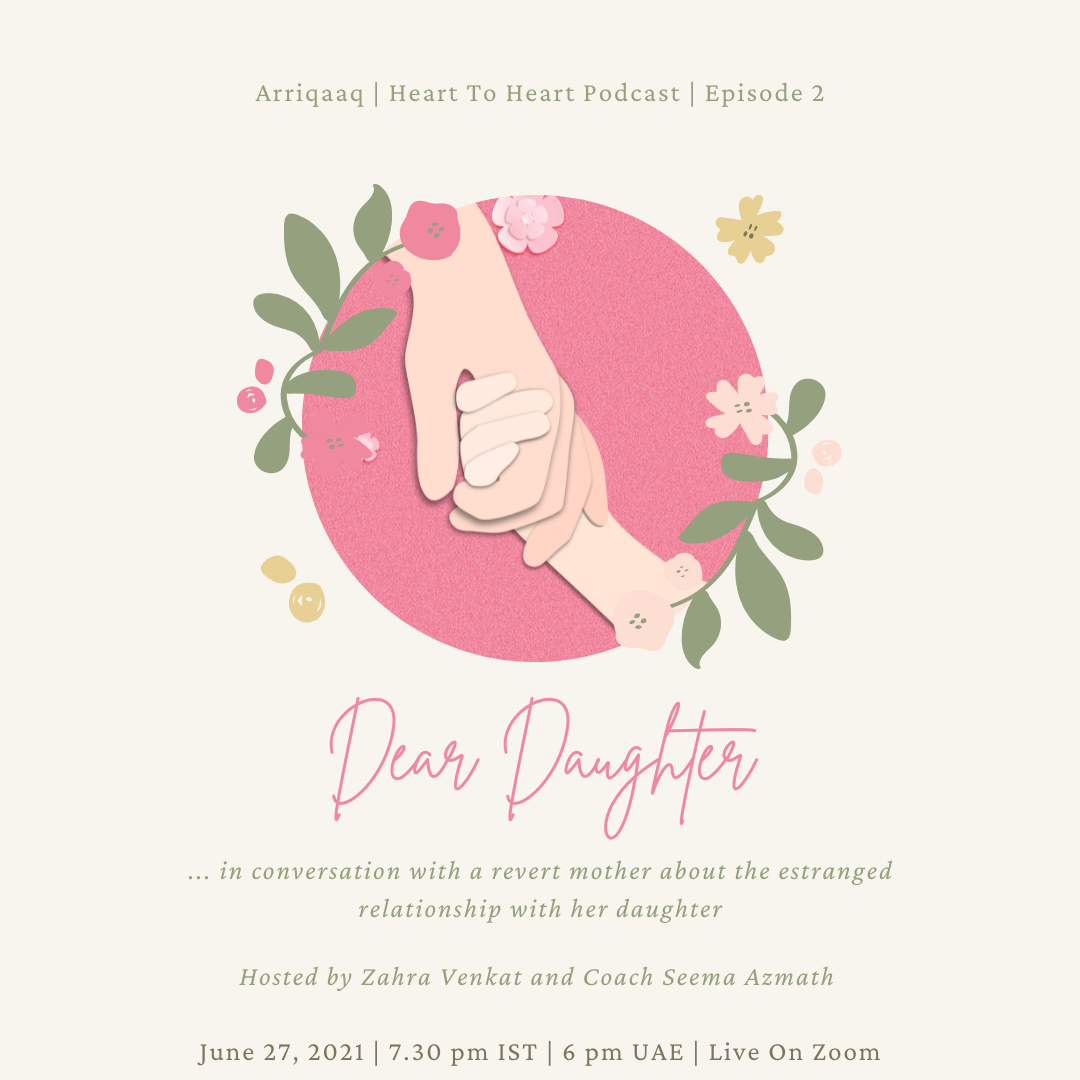 ---
💕 About our Heart To Heart Podcast

Heart to Heart is an unfiltered mental health podcast for sisters that shines a light on connection. It is part of our 'Letters from the Soul' project. The Podcast is intended to be a safe, personal space, where we reach out to the women in our community, near and far, to speak up about their emotional journeys, reflections, and share inspirational stories with one another. Our aim is to offer practical guidance on lasting mental health, to embrace sisterhood, making it an educational must-listen for all.
The episodes will be on themed topics and sisters can speak about their experiences or share personal stories, read out poems, notes, etc. related to the theme. Read more here about our free counselling services.
Note: These Podcasts will be LIVE, women-only, with NO RECORDING.
---
🎧 How To Join?

The second podcast will be under the topic of "Loss",

📅 When: Sunday, June 27th, 2021
⏱️ Time: 7:30 PM IST / 6:00 PM UAE Standard Time
🎧 Zoom: https://us02web.zoom.us/j/82302139042?pwd=K3VuaDNjTzEwZGkrUEptNlB2TlJyQT09
Meeting ID: 823 0213 9042
Passcode: 666584
🎙️ Host: Zahra Venkat
🎙️ Guest Facilitator: Seema Azmath, Spiritual Life Coach, Level 10 Muslimah Life Coaching
Seema Azmath is a *Certified Spiritual/Nafs Connection* Mentor-Coach and Islamic Practice Facilitator. She helps Muslim women navigate through their spiritual struggles by enabling them to find Eeman and Tawakkul in their lives.
---
🤝 Join Our Community

📲 Join our exclusive Telegram channel for Podcast announcements (sisters only) - https://t.me/arriqaaqpodcast
---
Arriqaaq is an online creative space for authentic islamic articles, courses, competitions, arts and crafts, projects that inspire, as well as reflection around education, islam, lifestyle and technology. Check out our educational events on Tafseer, coding and more here.
And Follow us on Instagram to stay up to date!